"…indies skew their efforts far too far towards production and away from marketing: this is one of the reasons why so few games are a genuine commercial success…"

– Paul Taylor of Mode 7 Games
Almost every other day I get an email from a game studio that recently launched a VR game. 
Almost always it goes a little something like this:
Game Studio:
Hey Mark! We launched our game but we only have 5 downloads.
Mark:
Did you guys create a website up to a month before?
Mark:
Ok well did you create a YouTube video that showcases gameplay?
I
frequently
consult game studios and other VR companies on how to market, brand and publicize your product for the world to see
.
Sometimes I offer my help up for free for simple tasks but charge much more depending on how large a game launch
is expected
to be
.
Please read this article if you are a game developer or work for a VR studio. Let me know if any of these tips benefited you or your game.
Successful marketing does not

require

a GIGANTIC budget.
You can start doing several things to upgrade the status of your game for free. All it takes a little bit of passion and time.
1. Begin Marketing your Game Right Now
I'm talking about the moment you begin designing, writing the story, etc.
After you finish designing or developing a section of the game. Post that on YouTube or Social media as a kind of preview to the game. Do this as
frequently
as possible.
It's astonishing to see VR companies begin the marketing process after the product
is launched
. It's a defense tactic that most teams realize
is required
for the survival of the company.
Unfortunately, most indie studios come to this realization after it is too late.
Start doing all the things you learn in this article
BEFORE
your game comes out.
I believe
the marketing process should start once development of the game starts. Planning
is taken
care of, and it's busy busy coding work.
Indie developers are "indie" not because they are bad, often times I meet some of the most talented devs working in indie studios
.
Let's say you have 4 people on your team.
Dedicate 3 of them to developing the game and make 1 person responsible or hire an agency to spend their days marketing and branding the game
.
2. Create a Website and Social Media Accounts
It's 2017. The internet and social media are going nowhere. If you don't think you need a website because you have a steam page please stop reading this article.
How much will a site set you back?
Probably
about $50/year. How much value will that website bring you?
Practically
unlimited.
Create a simple site with a landing page that prompts visitors to download buttons.
Survios the studio that made Raw Data has a great example of this.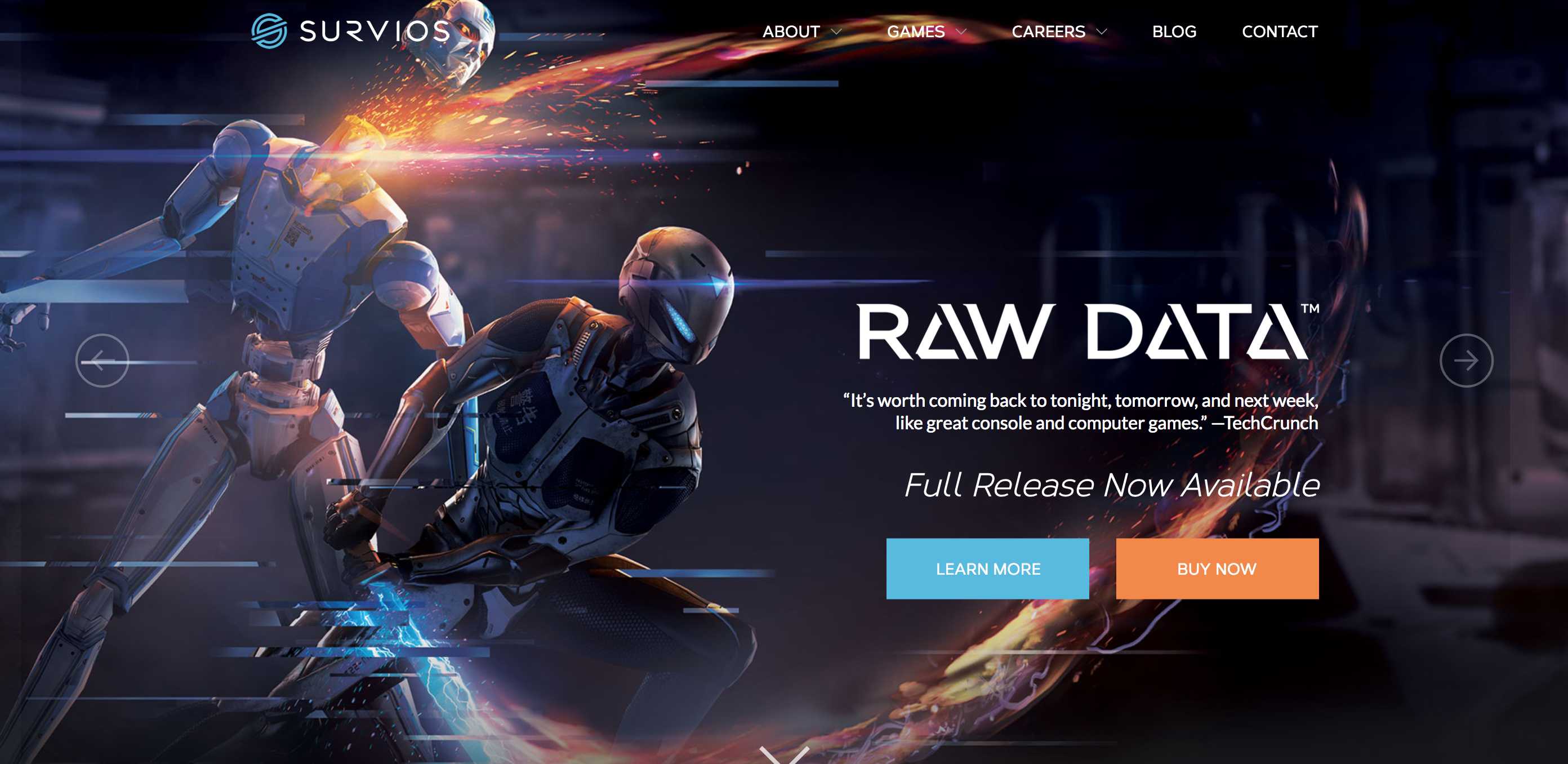 ---
Additionally, add recognizable media and people saying good stuff about your game.
Landing Page with Download Button

As Seen On or Press Media Evidence

Forum (Depending on Game)
"Social Media is

basically

slang for the internet"
Launch Facebook, Twitter, Instagram, Reddit, YouTube, accounts, and post
frequently
.
Doesn't get much simpler than that. Don't use your accounts on networks to spam.
Genuinely
engage with the community on there and provide feedback and value to others
.
Opening a social media account and posting 3 tweets and then complaining about lack of traffic doesn't make sense
.
Engage with your community plenty and build & establish your credibility before your game launch
.
Use proper SEO keywords for your game in the description.
3. Send Free Keys to YouTubers, Designers, and Influencers in VR
Would you rather give away too many keys or not get any traction for your game at all?
YouTube is one of the best video platforms to date.
Your team needs to spend a considerable amount of time messaging YouTuber's on YouTube, Social Media, and Email
.
When crafting your message try to provide some value back. You should give every single YouTuber a free game key whether they create a video on their channel or not. Some YouTuber's only accept money but most will review a quality game for free.
Link to your Website to their Video

A special edition of the game.

Help promote their videos in different communities.
When searching for YouTuber's try to look for videos that
were posted
within 1 day to a week.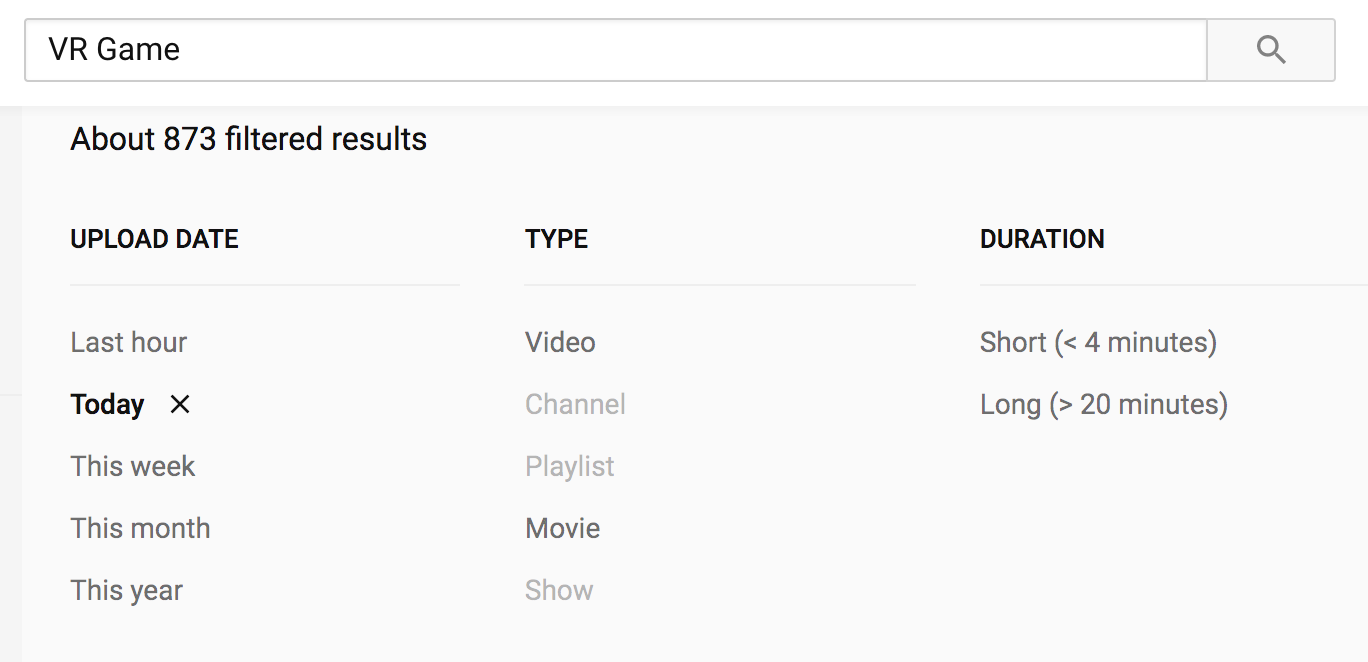 If you would like to get a YouTuber's attention, first try cold emailing them. No response? Start tweeting out their videos and @ them. Over time they will notice and your game/company will begin to peak their interest. Be consistent and keep going even if you don't see the results at first.
4. Document the Development and Pre-Launch Days
Don't waste any time trying to create content for your game before launch.
Simply
, document the development days. Write a blog post or even film a video.
There are many ways to go about this. Here are my two favorites.
Consistent Strategy
Write a Blog Post every single day. Ex. Day 01 – Planning and Initiating

Document your micro-struggles and achievements.

Post article on your Website, Medium, Quora, and LinkedIn.

As Needed Strategy 

Write a Blog Post because of a New Update. Ex. Update 01 – Game Character Graphics Done!

Post article on your Website, Medium, Quora, and LinkedIn.
I love documenting the pre-launch days because it serves a testament to your studio in the long run.
When your game down the road has millions of downloads people will be able to google what you guys went through at the beginning
. You're not creating a story for the game, you're also documenting the story of creating the game.
5. Launch an Amazing Content Marketing Strategy
Deploy your content marketing strategy via social media & website.
Utilize
all the social media accounts of your team members to promote the content.
Post information about OTHER INDIE GAMES!
I can't stress this enough. What makes you think people will care about your game if you don't care about theirs?
Consistently
tweet out other games and influencers in the space.
Share different articles and opinions about what's going on in the industry.
Consistently
feature YouTuber's, Influencers playing your game and enjoying themselves.
Wanna write posts? Write posts every day.
Before launch, after launch, 6 months in.
If you want people to find your game online, you must be producing content for them to find every day.
Don't have time to write a post every day? Outsource it to a media studio or get some writers to write for free.
Or, focus on creating high-quality lengthy blog posts 1-2 times per week.
6. Create an Amazing Mind Blowing Trailer you would Watch
Capture attention within 3 seconds.
Hire a Professional unless you are confident in your video editing abilities.
Post Testimonials/Quotes from Recognizable People/Organizations at the beginning of the video.
I

highly

recommend this guide by Richard Yeates of EnvatoTuts.
7. Reach out to Press Sites
Research Worthy Publications (Niche specific)
Find websites that cover your topic. Look up websites that post
specifically
about indie and/or VR games.
A good way to establish your game in the industry is to follow all editors and relevant staff at each publication
.
2. Look for Email Editor or Send a Tip
Usually, under the contact page, you will find an email from an editor. Email the editor. Do not use templates and
genuinely
try to communicate with the real person that he or she is.
3. Provide Value
It's important to not
just
plug your game. What makes you think editors care about your new VR game? One must
simply
consider the viewpoint of the editor. Imagine how many requests they get on a regular basis.
Try to provide some kind of value to the editor. Even a reason why people will care about your game is enough. Differentiate and distinguish your game from others in the market.
Ultimately
, more people caring = more views = more money. Offer them a link to your website and frequent shoutouts on social media.
4. Real Relationship
Above all, keep in touch the editors and build a real relationship. Reach out to them on LinkedIn, Reddit, Facebook.
I have made friends with many editors over time and now we sometimes meet up to
just
hang out.
8. Launch a Kickstarter or Indiegogo for Funding & Press
Sometimes the best part of a crowdfunding campaign isn't the money.
Press coverage and social media shoutouts increase when you launch a Kickstarter or Indiegogo
.
It's not cheap to launch a Kickstarter.
A significant amount of funds
is required
to hire a professional videographer to record a killer crowd enticing trailer
.
Additionally, launching a crowdfunding campaign will give you more leeway for a marketing budget for your game
.
I would recommend trying to raise few funds to hire a Kickstarter manager on your own. Then use the funds to pay for whatever you need the money and a marketing budget.
Even if you don't reach full funding having a little bit of money is better than none.
9. Ask Customers for Feedback
Locate all the current customer reviews of your game on YouTube comments, steam reviews, and website blogs
.
Do a bit of research and find some information about your users. Reach out to them and ask them what improvements would they like to see in the future? Previous customers are a gold mine for information about your current product.
You should also use social media to interact with your users. Provide a separate support form on your website but accept them on social media as well.
Sometimes it's beneficial to reply to someone globally. If someone tweets you and you reply back, either quote Rt or .@VUDreamOfficial Hey!
Additionally, once you have a solid connection with your players feel free to ask for reviews and ratings on Steam and other platforms
.
10. Get involved in MeetUps, Events, and Competitions
Don't got that online cred yet?
Working out a sponsorship between your company and a meet up can be
highly
beneficial. You should try to provide some value. Coordinate with the planners and ask if you can give everyone free steam codes to anyone that want's one. You could work on getting them to show the trailer for your game.
Conclusion
Check back on this page frequently for updates and additions.
We've seen a tremendous amount of disruptive change coming from the Virtual Reality Industry. It is surely certain that this kind of content will accelerate based on trends in the future.
You most likely have some other VR ideas that can change the world! Share them with us on social media!